Cognitive Testing: The New Standard for Accelerated Innovation
Wednesday, October 2, 2019 -

1:30pm

to

2:30pm
Cognitive Testing: The New Standard for Accelerated Innovation
Presented by:

The natural evolution in Software Engineering excellence has led us to Cognitive Automation. Prior
incarnations, particularly in Testing began with repetitive manual testing which was followed by
manual automated test generation. The economic and ergonomic limitations of these approaches have
been costly in terms of real dollars and in terms of degraded software quality. AutonomIQ, through its
ground breaking deployment of AI has created a Platform that is anchored on the Intent of the
responsible professionals (Engineers, Business Analysis, Quality Assurance), and autonomously
transforms that intent into machine generated and maintained coverage – the next Phase in Software
Innovation Velocity.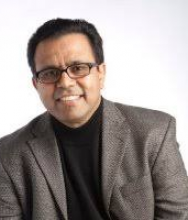 Raj Rao
AutonomiQ
Raj Rao is the Co-Founder of AutonomIQ, the leading AI Testing Platform that transforms English language test cases
into instantly executable and sharable Selenium scripts and test data. Raj's thought leadership in the application
of Natural Language Processing (NLP) to solve some of Software Engineering's most intractable and important
challenges has been a game changer for customers around the world. Raj previously held senior executive roles
at CA Technologies, Oracle and PeopleSoft.